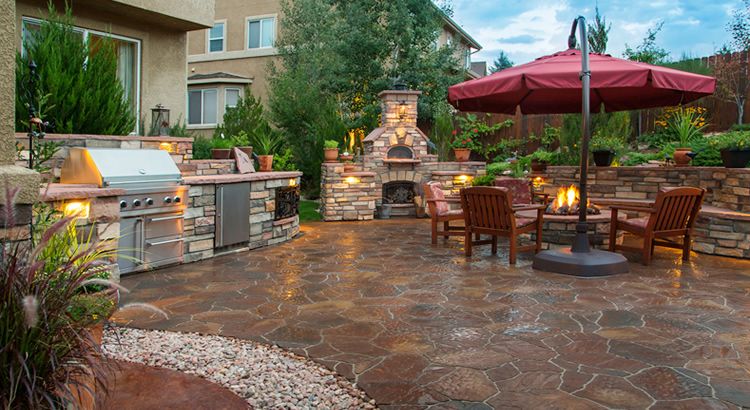 Prepare for Summertime Entertaining with These Backyard Upgrades
Raise your hand if you're so over this pandemic and cannot wait until the summer when we can get together and socialize with our loved ones? The roll out of the COVID vaccine is the light at the end of the tunnel and the restrictions are slowly being lifted. As more people get vaccinated, it's only a matter of time before things get back to normal, or at least have some semblance of normalcy.
If you're excited by the prospect of being able to host summertime parties and barbecues, ask yourself if your backyard is entertaining ready. Would you be embarrassed to have people come over and see a lackluster yard?
You can whip your yard into get-together shape with the best backyard upgrades highlighted by insights shared by top agents.
Swimming pools
A pool in the backyard is an excellent upgrade because it's fun for the whole family and is great for entertaining. Guests can play in the pool while food is being cooked on the grill. The kids can play Marco Polo while the adults chat and catch up while sipping on margaritas. It's a win-win all around!
If you're going to sell your home, a swimming pool is among one of the most sought after amenities that homebuyers are looking for. Even if you're not going to sell, if you were to get a home appraisal today, it may not add too much value because it's not attached to the house. However, you would be able to see a decent return on your investment when you set an asking price. Not only that, but since it's a hot seller's market (and will probably be that way for a few years), buyers are likely to pay what you want or more!
Improved lighting schemes
Improved lighting schematics can turn a pitch black backyard into a cozy haven perfect for nighttime entertaining. People can walk on the walkways without worrying about tripping. The kids can play late into the evening and not get hurt because the ball went into a dark spot in the yard. A couple can have a romantic dinner on the porch surrounded by twinkling string lights. Lighting is all about ambiance – even in the backyard.
Better equipped grilling station
Forget trying to haul that bulky grill from the garage! It's time to up your grilling game by creating a built-in grill, or even creating a complete outdoor kitchen. This feature is appealing, especially for those who hate cleaning up puddles throughout the house when guests and the kids come in for a snack fresh out of the pool.
Outdoor living spaces
Outdoor living spaces aren't just a patio table with chairs. You can turn your screened porch into a luxurious space where you'd want to spend hours. You can use comfortable couches and chairs to create an intimate seating area. You can use nice ceiling lights to give the space a warm glow. You can put potted plants and other decor items in the space and it would feel like an extension of the interior of the home.
Large area for games
Pools are fine and well as a source of fun, but it's not all the fun a backyard can offer. Summertime is all about enjoying the weather, getting some exercise while playing, and maybe even feel like a kid again (who doesn't love to chase fireflies at night??). That's why a lot of people are craving yards with a large area where they can play backyard games. Some people are even dedicating space where their kids can play on swing sets or in sand boxes. The name of the game here is to make the backyard fun for everyone, young and old.
We like to think that the backyard should be treated as an extension of your home. It's a space where you're going to let loose and enjoy the company of friends and family. It's a space where you can enjoy the beautiful weather without worrying about COVID. Your backyard should reflect your personality while still being a welcoming place for your guests, and with these backyard improvements, we're sure your next barbecue will be a hit!